Anak-anak mesti di ajar makan sayur sejak kecil. And for my kids, I always ensure vegi is a must in every meal. So, here I want to share very simple breakfast for kids & whole family.
Cekodok carrot
Bahan:
Lobak parut
Tomato potong dadu (optional)
Daun kucai potong halus
Bawang besar potong dadu
Udang kering sket ditumbuk
Garam seciput
Air secukupnya
Cara: campur semuanya dan goreng.
Semua orang suka terutamanya Mawaddah ;)
Next, is
carrot cupcakes
.
My mom beli banyak carrot last week so I baked
Carrot cupcakes with walnut n raisins
. Aduhai, aku dah jatuh cinta padanya. Lebih-lebih lg, I decorate it with French buttercream and cutie baby carrot. This is my 1st time make the baby carrot, quite challenging but yet very satisfying. I used my own homemade sugar paste not buy the readymade one from any cake supplier. Dek sayang nak makan yg cute2 tu aku simpan dlm fridge ;)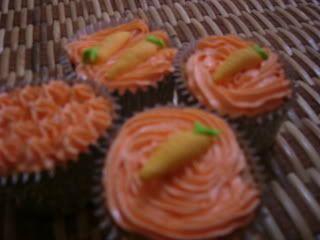 Tidak ketinggalan, other cupcakes :
Strawberry
,
Choc rice
&
Choc chip
cupcakes. Insyallah will update more and order will be made available next month. yeyeh weekend ni balik kg.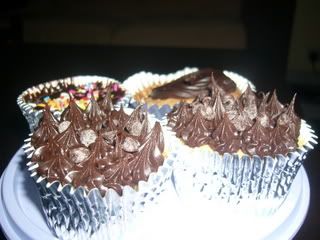 p/s- saya budak baru belajar, kalau salah tolong tunjukkan. Sila beri sebarang komen/cadangan membina untuk sy perbaiki kualiti kek ;) Thanks for ur support.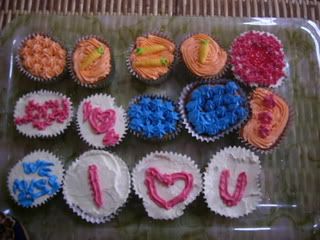 Haha..cupcakes yang dah senget pon ada