A friend, also a new father asked me how do I prepare
home made baby food
.
Its so simple actually. Let me give one example.
Breakfast: Apple puree
Ingredient: Apple & water
Steps:
1. Peel, core and cut a small apple into small dice
2. Bring water to a boil. Add apple and simmer covered, until apples are soft.
3. Be sure to stir
4. Reserve any left over water to use for pureeing it. I use blender for the easiest way.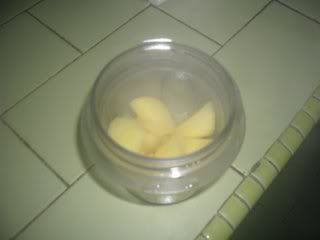 before blend

5. Divide into small cubes. I use microwave and freezer safe container. The small size.
after blend
6. Let it cool before you can transfer to the fridge/freezer.

Other than apple, I also use Pear or Potato
Lunch & dinner: Chicken Puree With Carrots & Potato
Ingredient: Small onion, chicken, carrot, potato & water

Steps:
1. Cut small onion, chicken, carrot, potato into small pieces
2. Bring water to a boil. Add chicken first, followed by other items.
3. Stir frequently until all cooked and tender.
4. Puree in a blender.
Sorry, I don't have any picture.
Other menu: Barley puree, brown rice cereal + carrots& potato

Some tips from the experts:

Refrigerator Storage of Fruit PureesIt is recommended that fresh pureed homemade baby food be stored no longer than 48 hours (many food safety authorities say that 72 hour is fine!) in the refrigerator. This limit ensures that bacteria growth in the puree is kept to a minimum and that the food does not take on the "taste of the fridge"! This "rule" applies for veggies, fruits, meats etc.

One for sure, homemade baby food can be frozen. I only cook once or twice a week for the baby.
Please keep in mind that you should not feed your baby from the container and then re-store. Saliva may contaminate the food and bacteria may evolve. Always take the portions you will serve from the container and transfer to a feeding bowl.
How to thaw
You may place the container in hot water OR
Heat it up using microwave oven. Set the lower power level. I always used power level 30.
Home made baby food is easy to prepare, healthy for baby, reduce our expenses & increase our 'Mawaddah' aka kasih sayang
Easy Peasy!
This is how my stocks look like. The cereal, puree and milk.
Email me for any inquiry on how do I prepare home made baby food & any inquiry on breastfeeding tips for working moms.